This page was last updated on May 10, 2013.

The purpose of this page is to provide you with some of the latest news about die varieties and error coins. Items on this page are not permanent postings. Check back often!

The attribution fee for single sided coin attributions (only one side of the coin needs to be attributed) is increasing from $3 per coin to $4 per coin effective June 1, 2013. The fee for two sided coin attributions (both sides of the coin need to be attributed) will remain the same at $5 per coin.

Packages of coins postmarked on or before May 31, 2013 will be evaluated at the $3 per coin attribution fee, while packages of coins postmarked on or after June 1, 2013 will be evaluated at the $4 per coin attribution fee.

This new fee structure will be in place for Brian Ribar, who does the five cent doubled die attributions, and for John A. Wexler who now does all of the other Wexler File attributions. (Posted May 10, 2013)

An Ebay auction that closed on April 4, 2013 netted $3,550 for a PCGS AU58 specimen of the 1992-D Lincoln cent "Close AM" variety, a record high value for specimens in this grade. The variety features the reverse of 1993. To date just a single working die has been identified for this elusive variety. (Posted April 6, 2013)

During his tenure as RPM attributer for the Wexler RPM Files, John Bordner amassed an impressive collection of RPMs of all denominations. His passing in January of this year created the need to dispose of the coins in this collection. Mr. Bordner's good friend Tom Kalantzis has been entrusted by the surviving members of the family to conduct an estate sale to dispose of the coins.

The John Bordner estate sale, which will be conducted in a mail bid format, starts on Monday, April 8. The sale will be conducted at Tom Kalantzis' forum at http://www.iddd.us/forum/ All coins have been graded, by IDDD, for estate purposes, as per estate law. Grades will be included with each sale, to be used as a guide.

In order to participate, you must register with the forum. You will need to give your name, address, and phone number when registering at the IDDD website. You will then need to send Mr. Kalantzis an email requesting a bidder ID Number which will be provided in an email response.

Bidders with questions can use the contact box the IDDD forum provides. Mr. Kalantzis will address all questions. ANACS has consented to slab all coins sent in from this estate sale with the caption "The John Bordner Collection" on the slab along as well as the pertinent attribution numbers. All coins in the sale will be listed with a picture and cross-referenced to all known attribution numbers which would include Breen, Cherrypickers, Wexler, Potter, CONECA, Coppercoins, and Crawford.

Coins will be shown on the IDDD website forum for ten days. Bidding will be done by email, and sent to Thomas Kalantzis at: t9k9o9@comcast.net. You can also use the forum's email system. At the end of each day, by 10:00 PM eastern time, the high bid will be shown on each individual sale page along with the bidder's ID number. Everyone will need to include that ID number when submitting bids. At the end of the ten days the winning ID number and the winning bid amount will be shown for three days and then removed. This is a private sale. IDDD will make no money on any part of the sale. Mr. Bordner's widow, Ivy, will pay expenses. Each winning participant will receive an email from Mr. Kalantzis. All checks must be made out to Ivy Bordner. In the memo box on the bottom left of the check, please include the coin date and the auction number. A bounced check fee for lack of funds is 15.00 dollars. (Posted April 3, 2013)

As a result of my decision to illustrate all of the Lincoln cent doubled die varieties listed in the Wexler Doubled Die Files rather than just the "Best Of" varieties, I have made significant changes to the Lincoln cent doubled die pages on this website.

Pages now exist for each date and mint mark for which doubled dies are listed in the Wexler Doubled Die Files. On each of the pages you will find a list of the Lincoln cent doubled dies listed with that date and mint mark. For example, if you go the the page for the 1941-D Lincoln cent doubled dies, you will see that there are five obverse doubled die varietes and two reverse doubled die varieties listed for the 1941-D cents. Only one of those varieties is currently illustrated with information and photos. The information and photos for the rest will be filled in as time permits.

For a few dates the number of obverse and reverse varieties is so great that separate pages had to be created, one for the obverse doubled die varieties and one for the reverse doubled die varieties. An example would be the 1964 Lincoln cents for which there are 38 obverse doubled die varieties and 116 reverse doubled die varieties.

The word "Complete" following the link for a particular date and mint mark indicates that the page illustrates all of the doubled die varieties listed in the Wexler Doubled Die Files for that particular date and mint mark. If you have a genuine doubled die variety for that date and mint mark that does not match any of the illustrated varieties on that page, it would most likely be a new listing.

Users of this site will need to exercise patience as it is going to take considerable time to fill in the information and photos for all of the Lincoln cent doubled dies outlined in this site's pages. (Posted February 19, 2013)

Two specimens of the 1992-D Lincoln cent variety known as the "Close AM" variety were sold in a recent Heritage Auction that ended on February 8, 2013.

Lot #3721 was a PCGS MS64+ Red specimen that sold for $5,140.63 with the Buyers Premium. Lot #3722 in the same auction was a PCGS MS65 Red specimen that sold for $13,512.50 with the Buyers Premium. Given the price of the MS65 specimen, it appears that the MS64+ specimen was a real steal at the price it was purchased for.

Specimens of this variety are still out there waiting to be found. (Posted Feb. 13, 2013)

On January 19, 2013 the error-variety hobby lost one its greatest founders when Alan Herbert succumbed to bladder cancer. Mr. Herbert began collecting coins in 1963 and swiftly took on an active role in the hobby as he started writing a column for Numismatic News in 1968. The column catered to error and variety collectors.

1971 was the year that I found my first doubled die coin. It was a 1971 Lincoln cent with strong doubling in LIBERTY and IN GOD WE TRUST. I wasn't able to find any information on what I had found. A short time later I bought my first copy of Numismatic News at a local coin shop and was introduced to Alan's "Odd Corner" column. I decided to write to him about my 1971 Lincoln cent and ended up sending the coin to him. I was thrilled to learn from Alan that the coin was a doubled die variety, the variety that is now listed in my files as WDDO-001.

I was hooked and that first correspondence led to an on going series of letters back and forth in which Mr. Herbert graciously tutored me on all aspects of doubling on coins. When the so-called "lesser" 1972 Lincoln cent doubled die varieties came on the scene the following year, I had the opportunity to work with Mr. Herbert in identifying and cataloging the various varieties and stages of those varieties. The tutoring sessions turned from recognizing the different types of doubling to an appreciation of the importance of die markers.

In 1967 Alan Herbert began serving as the Secretary for the Collectors of Numismatic Errors (CONE), a club devoted to errors and varieties. As such he invited me to join the organization which I promptly did where I joined him in writing for their weekly publication The Errorgram. In the early 1980's CONE united with "rival" error group NECA (Numismatic Error Collectors of America) and the two clubs merged into CONECA (The Combined Organizations of Numismatic Error Collectors of America). Mr. Herbert continued on in his position of Secretary until 1991. He was the first member inducted into the CONECA Hall of Fame, a well deserved recognition.

When Robert Wilharm and I joined forces in 1978 to publish Error-Variety News, a monthly magazine devoted to errors and varieties, Alan Herbert graciously came on board as a columnist penning a monthly "Mints and Minting" column. I had the honor of having Mr. Herbert in my home as a guest in 1980 when he was able to arrange an Error-Variety News sponsored ground level tour of the Philadelphia Mint.

My hobby education through Alan Herbert eventually turned from the coins to coin photography which was instrumental in giving me the ability to shoot the photos for my early 1980's books The RPM Book (1983) and The Lincoln Cent Doubled Die (1984), the latter of which I dedicated to Mr. Herbert.

During the 1980's Alan became the author of the "Coin Clinic" column in Numismatic News and maintained that column until his passing. When I returned from a hobby hiatus in 1993, Alan quickly recruited me to start writing for Coins magazine and Numismatic News. Alan served as the editor of Coins magazine for a two year period in the early 1990's. Sadly when I started writing for Coin World in 1998 our paths started crossing far less frequently, but Alan will forever hold the position as my hobby mentor.

Alan is most recognized as the creator of the "PDS System", a system of categorizing and cataloging error and variety coins. This system was the backbone of his book The Official Price Guide To Mint Errors which went through a series of seven editions.

His contributions to the hobby were not limited to errors and varieties. He was a life member of the American Numismatic Association (ANA) where he served three stints as a member of the board of governors. He received a Medal of Merit from the ANA in 1994 and in 2001 was honored with the Glenn Smedley Award. As a member of the Numismatic Literary Guild he was honored with the guild's Clemy Award in 1997.

His passing leaves a huge void in the hobby. He will be sorely missed. (Posted February 5, 2013)

Alan Herbert at the 1999 ANA Convention in Chicago.

From the very beginning the goal of this website has been to educate collectors of die varieties as to how they occur and what they look like. I also hoped that illustrating the "Best Of" varieties would be helpful to die variety collectors and those hoping to get started in this fascinating hobby.

Lately I've been hearing from a growing number of people that they would like more listings illustrated and not just the "Best Of" varieties. Those making that request don't know the magnitude of that request because of the number of varieties involved, but I've given it a lot of thought and decided that I am going to give it a try. My new goal for this site is to illustrate all of the 20th and 21st century doubled dies, RPMs, and OMMs in the Wexler Files.

This will be a daunting task to say the least and it won't happen over night, or in a week, or a month, or a year. It will probably take several years to accomplish, but I guess it is worth a try and I have a reasonable start with what is already illustrated on the site.

One quickly noticable change will be the disappearance of the New Listings page. As new listings are added to the site they will be placed in their appropriate permanent page and putting them on the New Listings page will be a redundancy and a waste of valuable time. The process has already started with the three new quarter listings added today. As soon as the other listings on the New Listings page can be moved to their permanent location on the site, the New Listings page will disappear completely. I will continue to note all new listings on the home page.

It would be wonderful if one day you could come to this site with your new finds and determine for yourself whether or not they are already listed. If listed, you could save money by not having to send them in for attribution. On my end it will hopefully cut down on the time that I have to spend doing attributions of already listed coins.

I ask your patience as we move towards the fulfillment of this goal. Wish me luck!!! (Posted January 20, 2013)

It is with great sadness that we must report that die variety specialist John Bordner lost his battle with lung cancer on January 11, 2013. John is survived by his wife Ivy and a son J.J.

I was first introduced to John in 1997 when he became the auctioneer for the Society of Doubled Die Collectors of America (SDDCA). When that club folded in the latter part of 1998 Mr. Bordner joined forces in early 1999 with die variety specialist Billy G. Crawford and together the two of them created the National Collectors Association of Die Doubling (NCADD), a club devoted to die varieties as listed in the Wexler Die Files.

Mr. Crawford was the initial President of the organization and Mr. Bordner was the initial Vice President. Not long after the club was established Mr. Crawford stepped down as President and Mr. Bordner assumed that position, a position that he held until his passing.

1999 also marked the year that the Wexler Die Variety Files became too large for a single person. Mr. Bordner graciously accepted the challenge of becoming an attributer for the Wexler Die Variety Files. Initially he served as the attributer for all ten cent and fifty cent die varieties. After a while it became easier for him to assume all of the die variety attributions that involved repunching. These included repunched mint marks (RPMs), over mint marks (OMMs), inverted mint marks (IMMs), repunched dates (RPDs), misplaced dates (MPDs), and pre-1909 overdates (OVDs). The status of these files and attribution services are currently in state of limbo due to Mr. Bordner's passing.

In 2002 Mr. Bordner published The Comprehensive Guide to Lincoln Cent Repunched Mint Mark Varieties - Volume 1 = Wheat Cents 1909 to 1939 which was coauthored with Brian Allen and John Wexler. In 2010 he published The Comprehensive Guide to Lincoln Memorial Cent Repunched Mint Mark Varieties - 1959. It was the first in what John hoped would be a comprehensive series of books on the Memorial cent RPMs.

Mr. Bordner's passing creates a huge void in the hobby that will be difficult to fill. His presence at the various coin shows and his extreme committment and dedication to the hobby, along with his many contributions to the hobby will be deeply missed. My deepest sympathies go out to Ivy and JJ.

John Bordner hard at work at the 2000 ANA Convention.

All of the items that I previously listed for sale on this website are now available in my coin store at the USA Coin Book website. One of the great features at my coin store is the ability to create my own store categories. Because of this feature you can narrow your search to specific error and variety types, as well as to a specific denomination, a specific series, and even a specific date.

At the store I am able to include far more detailed descriptions as well as photographs, something I had been unable to work out at this website. Those seeking to buy coins can do so in shopping cart fashion and will be able to send payment immediately through PayPal, or you can still pay by check or money order.

Another plus to buyers in our move to the USA Coin Book website is the fact that as we transferred items from this site to the new site, many of the prices were lowered significantly. To view what we currently have available for sale, just click on the following link: http://www.usacoinbook.com/store/doubledguy/



Thanks to eagle-eyed error/variety dealer Garland Lawson, the listing that we had for 1987 1¢ WDDO-004 has been deleted from the Wexler Doubled Die Files.

The "variety" in question appeared to show an extra impression of the lower left outside of the ear. An overlay of that portion of the ear appeared to confirm this. However, in searching a BU roll of 1987 cents Mr. Lawson indicated that he found the anomaly on several different working dies. Mr. Lawson graciously sent the coins so that I could have a look.

Sure enough, when the coins arrived multiple working dies showed the "extra ear" in varying strengths. A quick look at 1987 and 1987-D cents from rolls that I had put aside forced the conclusion that what appeared as a partial extra ear was just part of the normal hair design for that year. This culminated in the deletion of the variety from the files. (Posted October 18, 2012)

Arrows point to what looks like an extra impression of the lower left ear.

This is the same area as photographed by die variety specialist Billy G. Crawford for the purpose of an overlay as seen in the next image.

The overlay of the ear appears compelling, but turns out to be merely coincidental.

Thanks to coins submitted by die variety specialist Brian Ribar, some 1957 obverse doubled die Lincoln cent varieties have been reclassified as coming from a doubled working hub. The affected varieties include 1957 1¢ Pr WDDO-006, 1957 1¢ Pr WDDO-009, and 1957 1¢ Pr WDDO-010. These varieties have all been reassigned as specimens of 1957 1¢ Pr WWHO-001.

This doubled working hub shows extra thickness to the date, LIBERTY, and IGWT with there also being some separation lines from a spread towards the center on the letters of IGWT. This reassignment leaves a hole for WDDO-006 which will be filled with the next new obverse doubled die reported for this date. (posted September 18, 2012)

Extra thickness to the date along with a notch on the lower left 1 as seen on 1957 1¢ Pr WWHO-001.

Extra thickness to the letters of LIBERTY as seen on 1957 1¢ Pr WWHO-001.

If you are not in the habit of checking the Lincoln cents in your pocket change, you may want to change that habit! According to some recent Coin World articles, 1992 and 1992-D Lincoln cents with transitional reverse designs sold for some record setting prices.

News of the sale of a 1992-D cent with the reverse design of 1993 came on the front page of the August 13, 2012 issue of Coin World. The cent was in a PCGS slab and was graded as MS64RB. It sold in a Heritage Auction at the 2012 FUN summer convention for a whopping $20,700.

The following week Coin World reported that a 1992 P-Mint cent with the reverse of 1993 sold for $24,056.53 in an Ebay auction that closed on July 30, 2012. This specimen was graded PCGS MS67RD.

You can learn more about transitional design coins at the Transitional Designs page of this website. (Posted September 18, 2012)

A new website devoted to mint errors and varieties has been launched by Mike Diamond, BJ Neff, Jeff Ylitalo, Jason Cuvelier, Fred Weinberg & Jon Sullivan. Known as the Error-Variety Ready Reference, it is a comprehensive illustrated glossary of every conceivable defect associated with the minting process. It will contain detailed illustrated descriptions of hundreds of basic error types, numerous subtypes, and assorted effects associated with them. It is not designed to cover compound errors and multiple errors, as these occur in an infinite number of combinations and permutations. It is also not intended to be a catalog of specific coins and dies. The Ready Reference is built upon a framework provided by a 22-page Comprehensive Error-Variety Checklist that was compiled by Mike Diamond some years back and that he continually updates. The checklist is available on this website. To view the new site just click on the following link: http://www.error-ref.com/index.html (Posted July 10, 2012)

Marilyn Keeney was quick to notice that a new listing for the 2009 Early Childhood cents wasn't a new listing at all. The variety that I listed as 2009 1¢ EC WDDR-138 was actually the same variety as 2009 1¢ EC WDDR-118 which was already listed.

Thanks to Marilyn's eagle eye, I have removed the duiplication from the listings and files. Thanks for having my back Marilyn!!! (Posted June 12, 2012)

Two AU specimens of the major Lincoln cent doubled die listed as 1969-S 1¢ WDDO-001 (FS-101) sold at record prices for their grades. The specimens were sold in Ebay auctions conducted by coin dealer David Lawrence that ended on March 25, 2012.

A PCGS AU53 specimen brought a final price of $17,000 while a PCGS AU58 specimen realized a final price of $22,600. In the very same auctions a PCGS MS67RD specimen of 1972 1¢ WDDO-001 (FS-101) commanded a final selling price of $9,600.

In an earlier post we had reported that a PCGS AU58 specimen of the 1972 Lincoln cent doubled die variety listed as 1972 1¢ WDDO-004 (FS-104) sold in a Teletrade auction that ended on March 11, 2012 for $2,600 and that this price included a 15% buyer's fee. That report was in error as the quoted price did not include the 15% buyer's fee. With that fee the actual final selling price was $2,990. The corrected information was provided Roger Willingham who found the specimen that was sold in that Teletrade auction. (Posted April 15, 2012)

Arnold Margolis, probably known best as the editor and publisher of Error Trends Coin Magazine (ETCM), passed away on March 26, 2012 at the age of 86. With his passing the error/variety hobby has lost a true icon. Mr. Margolis is survived by his wife Joan, a son Barry, a daughter Amy, and four grandchildren.

Mr. Margolis is one of the true pioneers in the error/variety hobby. In the 1960's he helped organize a club that would become known as NECA (Numismatic Error Collectors of America) and served for a time as the president of that organization. He also served as publisher of the club's monthly publication The Errorscope. That club would eventually merge with "rival" club CONE (Collectors of Numismatic Errors) to become CONECA (Combined Organizations of Numismatic Error Collectors of America) which still serves the hobby to this day.

In 1968 Mr. Margolis began publishing Error Trends Coin Magazine, a monthly magazine devoted to error and variety coins. The magazine appeared without interruption until health issues brought publication to an end early in 2011. One of the main goals of the magazine was educating collectors on how the various errors and varietes occurred, something that I as an educator always appreciated.

Mr. Margolis worked as an exhibit judge for the ANA (American Numismatic Association) for many years. It was in that position that he was able to help influence the ANA to recognize error coins as a separate exhibit category.

Some of my fondest memories of Arnie, as he preferred his friends call him, came during the years that I was co-owner and editor of Error-Variety News magazine, also a monthly magzine devoted to errors and varieties. Rather than view my publication as a rival, he welcomed the publication and offered his support. When going to the same ANA Conventions during that period of time we shared a table which probably raised a lot of eyebrows among those that felt we should be enemies rather than friends.

Prior to retiring Arnie worked as a camerman and video engineer for the NBC television network, a position that had him travel throughout the country. As a result of these work experiences, Arnie always knew the best places to go to eat when we were at the ANA Conventions with him. His work related stories also provided great entertainment at those meals.

When I left the hobby in 1986 and returned in 1993, Arnie was one of the first to welcome me back encouraging me to return to writing and publishing. My 1996 booklet The Complete Guide to the 1995 Doubled Die Cent Varieties first appeared as a series in Error Trends Coin Magazine and was then issued as a successful booklet by Arnie. The same was true for the original The Best of the Jefferson Nickel Doubled Die Varieties which was published by ETCM in 1998.

Arnie authored several books that are standards in the hobby. These would include four editions of The Error Coin Encyclopedia, as well as The Error Coin Primer, Mint Errors on Carson City Dollars, The Error Collector's Handbook, and How Error Coins Are Made in the U.S. Mints. He also coauthored The Design Cud.

The hobby has lost a legend. Arnie Margolis will be missed. His work and influence will live on for a long, long time. My condolences go out to his family. Rest in peace Arnie!

Arnie Margolis at one of the ANA Conventions he enjoyed attending!

Thanks to Robert H. Knauss two new Standing Liberty quarter doubled die varieties have been added to the Wexler Doubled Die Files. These would include 1928-D 25¢ WDDR-001 and 1929-D 25¢ WDDR-001.

Because I have so few listings for this series (as do other attributers), I decided to add a page to this site that will illustrate all of the Standing Liberty quarter doubled dies listed in my files. This of course would include the two new listings noted above.

Collectors that feel they have Standing Liberty quarter doubled die varieties that are not illustrated on this page are encouraged to submit them for attribution and listing. I am also seeking a specimen of the 1918/7-S Standing Liberty quarter overdate variety (a Class III doubled die) in order to obtain photos of the doubling and significant die markers. If you can help, please contact me at jwex@comcast,net at your convenience.

To view the new page just click on the following link: Standing Liberty 25¢ Doubled Dies (Posted March 24, 2012)

A PCGS AU58 specimen of the 1972 Lincoln cent doubled die variety listed as 1972 1¢ WDDO-004 (FS-104) sold in a Teletrade auction that ended on March 11, 2012 for $2,600. This price included a 15% buyer's fee. Previously a PCGS AU58 specimen of this variety sold at a Teletrade auction for $2,100 on Sunday, March 20, 2011 so this latest auction sets a higher value for specimens in this grade.

In the very same Teletrade auction a PCGS AU53 BN specimen of the 1992-D Lincoln cent "Close AM Variety" listed as 1992-D 1¢ WTRD-001 (FS-901) sold for $3,300. Again this selling price included the 15% buyer's fee and helps to establish a value guide for specimens of this variety. (Posted March 12, 2012)

A very significant Lincoln Memorial cent doubled die reverse has been reported for the 1998-D cents by die variety collector Joseph Koelling. The variety has the potential to be considered a major doubled die variety and is very similar to 1991-D 1¢ WDDR-001, a Cherrypickers variety (FS-801) that was also discovered by Mr. Koelling.

A strong Class I CW spread can be found on the Memorial building. Doubling shows on the underside of the left side of the Memorial and above the right side of the Memorial. Extra columns can be found in the 1st, 2nd, 3rd, 4th, 9th, 10th, and 11th Memorial bays. The extra columns are slanted at an angle consistent with the CW rotation.

In all likelihood the hubbing was halted early in the hubbing sequence to correct a misalignment between the working hub and the die. In the process of correcting the misalignment, a Class I rotation occured.

This new doubled die is certain to get seasoned die variety collectors searching their 1998-D cents. The variety is listed in my files as 1998-D 1¢ WDDR-006 and it is also listed by Coppercoins as 1998D-1DR-003. It will be permanently illustrated among The Best of the Memorial Cent Doubled Dies. (Posted Feb. 5, 2012)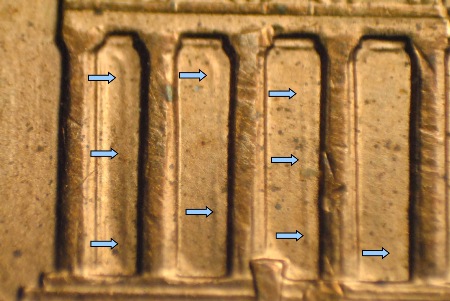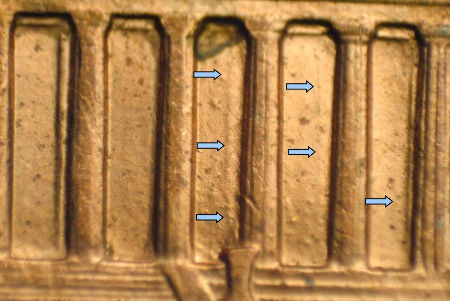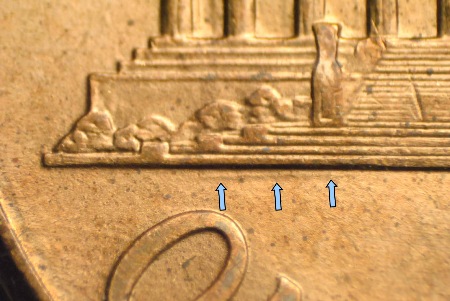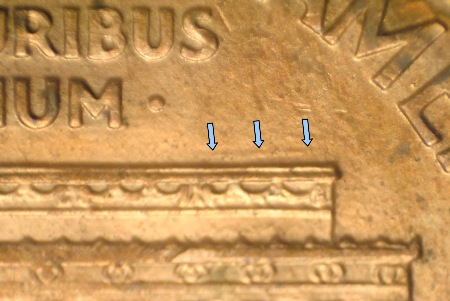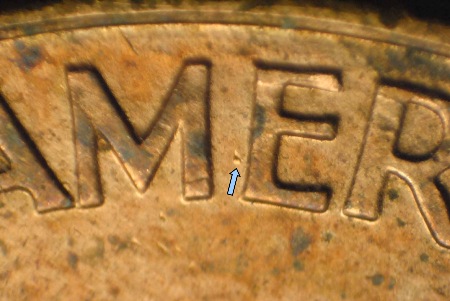 Thanks to Leonard Schulfer, the number of states with doubled dies on their State Quarters has climbed from 28 to 31. The three states added to the list with doubled die State Quarters are Kentucky, Massachusetts, and Rhode Island.

All three of the new states are represented with new "doubled earlobe" varieties on the obverse of the quarters. Mr. Schulfer actually submitted five new "doubled earlobe" varieties, but two of them were for states that already had doubled die listings.

That brings the list down to just 19 more states needed with doubled dies to make it possible to complete a set of Statehood Quarters from all 50 states with doubled dies. To view the new listings just go to the New Listings page. (Posted January 3, 2012)